Dr. Douglas Portmann has been freeing people from pain in his office in Loveland, OH. As a Chiropractor with experience, Dr. Portmann is committed to promoting optimal health and well being of patients.
Dr. Portmann uses a "whole person approach". This approach to wellness means looking for underlying causes of any disturbance or disruption (which may or may not be causing symptoms at the time) and make whatever interventions and lifestyle adjustments that would optimize the conditions for normal function. Using this unique approach, Dr. Portmann is able to help you to accelerate and/or maintain your journey to good health.


Dr. Douglas Portmann, DC, CCSP, CSCS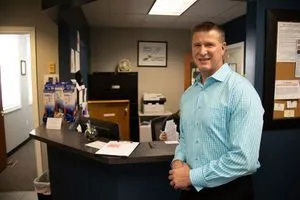 Dr. Doug received a Bachelor of Arts in Communications from Bowling Green State University in 1989. He received his doctorate of Chiropractic in 1994. Some of the many techniques he has mastered and uses in his practice include: Activator, Thompson, Diversified and Cox.
As a certified Chiropractic Sports Physician (one of the few in the Cincinnati area), Dr. Portmann can treat many areas such as knees, elbows, shoulders, ankles and feet to avoid unnecessary surgery. He is certified to do Dry Needling, and Cupping therapy as well.
Dr. Doug's specialties include pediatrics, geriatrics and sports injuries. He has been serving the health care needs of the Cincinnati community for over sixteen years.
He is especially interested in wellness and nutrition and would like all of his patients to be "Living Beyond Average."
Dr. Portmann is a Professional Member of:
Little Miami River Chamber Alliance 2016- Present
American Chiropractic Council on Sports & Physical Fitness
National Strength & Conditioning Association
Loveland Chamber of Commerce
Loveland Chamber of Commerce Board Member 2008-2009
President of Chambers from 2019-2021